"Yogurt consumption is associated with reduced risk of Type 2 diabetes" is one is one of the 10 evidence-based conclusions made by the YINI board about the health effects of yogurt… learn more below
Three meta-analyses have reported a consistent association between yogurt consumption and reduced risk of Type 2 diabetes (T2D).
Whole-fat yogurt appears to be best – contrary to the recommendations of most dietary guidelines advocating low-fat dairy products for adults.
Results of a recent Danish study showed that whole-fat yogurt eaten in place of low- or wholefat milk was associated with a lower rate of T2D during a median follow-up of 15.3 years in people aged 50–64 years at baseline (11–17% reduction
per serving/day substituted).
In contrast, when low-fat yogurt was eaten in place of whole-fat yogurt, there was a 17% higher rate of T2D per serving per day substituted.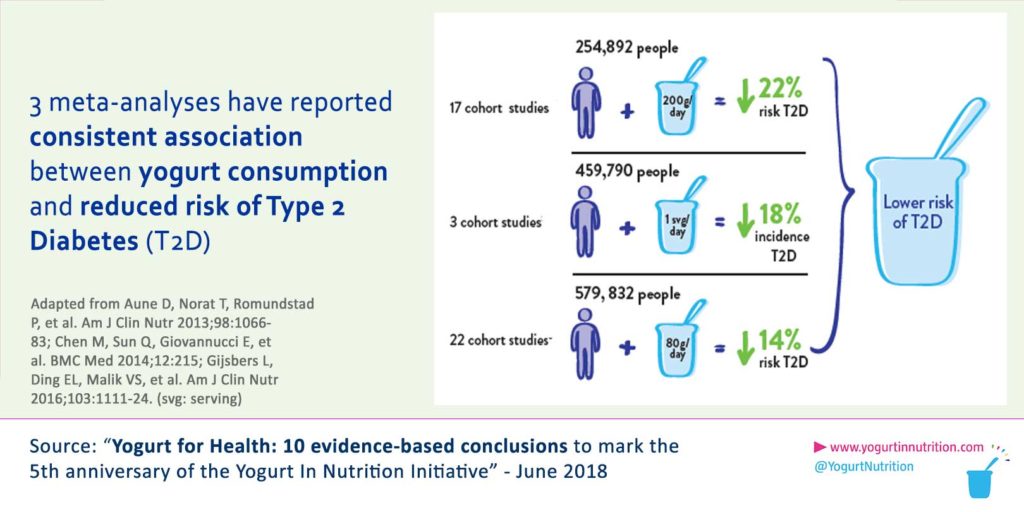 References: