Summary written by Dr Eamon Laird, Nutritionist and Research Fellow at Trinity College Dublin, Ireland.
The YINI symposium at The Federation of European Nutrition Societies (FENS) took place at the Convention Centre, Dublin Ireland in October 2019. Prof Barbara Rolls, Chair in Nutrition at the Pennsylvania State University delivered an interesting and engaging presentation entitled 'Yogurt can be a versatile and satiating food for weight management'.
About Nutrient density…
Prof Rolls began the talk by comparing the nutrient density of yogurt in comparison to other foods. It is well known that plain yogurt contains high proportions of minerals, vitamins, macro and micronutrients though it was surprising to see how high yogurt scored in nutrients compared to other groups
How yogurt may regulate food intake and appetite
Prof Rolls then explained that a large body of research is on-going investigating how yogurt may regulate food intake and appetite. Some have suggested that this could be due to the flavour, the actual physical properties of the yogurt, the protein/fat content, the energy density and even the mental expectation that eating a yogurt will make a person feel full.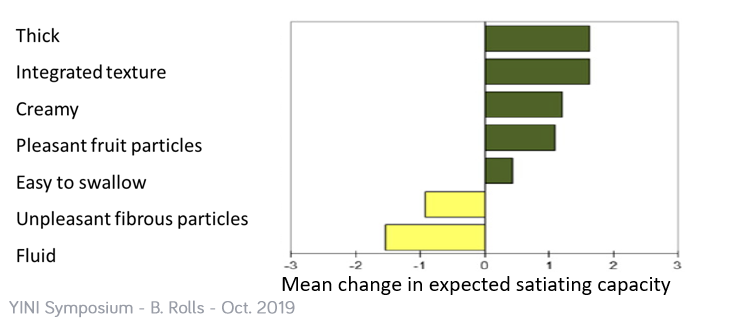 Various studies were highlighted which investigated satiety (the feeling of fullness after a meal) by changing the fat/protein/portion size or energy density of yogurts and comparing satiety levels against other foods. High levels of satiety were obtained for yogurt though the actual mechanisms or the single factor cause is still unknown despite recent research. However, it was clear from the experiments that yogurt postively affects satiety more than other foods regardless of the cause. Thus it was concluded that switching high energy foods for yogurt could improve the nutrient density of an individual's diet and increase satiety which could in turn reduce overall calorie intakes and help with healthy weight maintenance.
Substituting yogurt for foods higher in energy density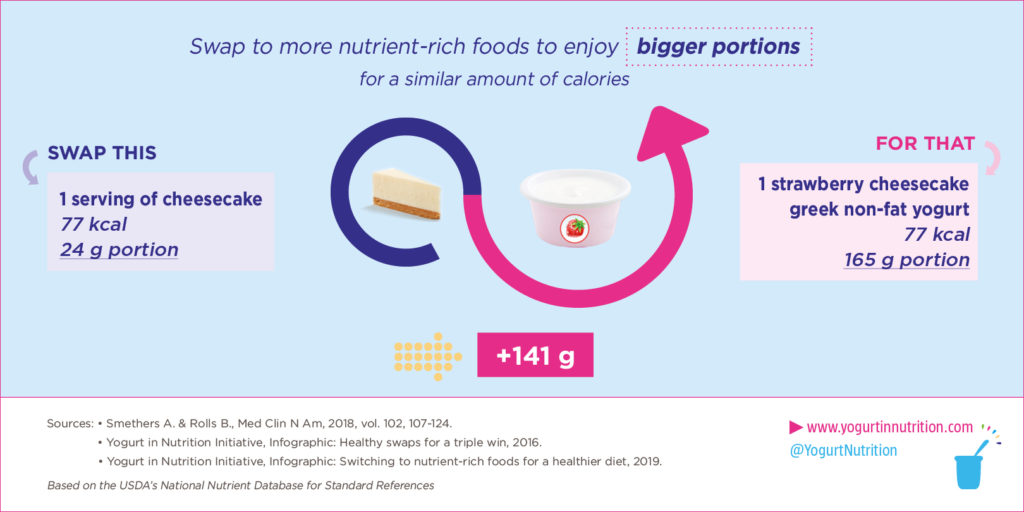 While improving the nutrient density of the diet
Prof Rolls concluded that studies with yogurt indicate that slowing eating rate and lowering energy density can enhance satiety and reduce energy intake. Yogurt can provide a number of nutrient-dense options that can be substituted for more energy-dense foods to manage intake and thus potentially healthy weight mangement in sustainable way.
Points to consider:
Not all yogurts are the same with various different macro and micronutrient compositions. The majority of research to-date on satiety has been with unflavoured plain yogurts and it is still unknown if the effects are similar across the whole range of yogurt products.
Increasing yogurt intakes may be a healthy and sustainable way to increase nutrient density of the diet which is particulary important for older adults and those at risk of poor nutrition.
Yogurt increases satiety more in comparision to other food items. This may explain the significant correlations in research showing associations of high dairy/yogurt intakes with lower body mass index and measures of adiposity.
Summary written by Dr Eamon Laird, Nutritionist and Research Fellow at Trinity College Dublin, Ireland.