"Yogurt is a nutrient-rich food" is one is one of the 10 evidence-based conclusions made by the YINI board about the health effects of yogurt… learn more below
Yogurt consumption helps meet nutrient intake requirements in adults and children
Yogurt and other dairy products contribute to key nutrient intakes for adults and children. That is why most countries recommend the consumption of dairy products – and, when amounts are specified, two or three servings per day are typically recommended.
For example, a 125-g pot of plain yogurt provides, among other nutrients, 20% of an adult's recommended daily intake (RDI) of calcium, 21% of vitamin B2, 11% of vitamin B12, and 16% of phosphorus.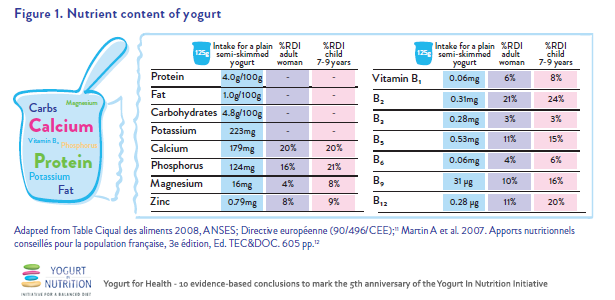 Good diet quality is especially important for children and adolescents to support growth and development.
Yogurt is a valuable part of a balanced nutrient-rich diet during this period, contributing a substantial percentage of a child's needs for micronutrients and macronutrients.
In fact, many people do not eat the recommended intakes of certain nutrients, which are therefore referred to as the 'shortfall nutrients'. Teenagers are especially at risk of nutrient shortfall, and vitamin D, calcium, potassium, fibre and iron are of particular concern.
Data from the National Health Nutrition and Examination Survey (NHANES) show that increasing dairy food consumption (milk, cheese and yogurt) to meet the recommended level in the USA for adolescents of three servings per day can make up for the shortfall of three nutrients of public health concern – calcium, vitamin D and potassium.
The UK survey data suggest that adding a 125 g pot of low-fat fruit yogurt per day to adolescents' diets would increase mean calcium intake from below to above the Recommended Nutrient Intake.
"Nutrient density is a key feature of food that we should prefer in the context of a balanced diet, and yogurt is a nutrient-dense food containing a wide range of macro- and micro-nutrients." – Professor Michele Sculati
References:
Keast DR et al. Associations between yogurt, dairy, calcium, and vitamin D intake andobesity among U.S. children aged 8–18 years: NHANES, 2005–2008. Nutrients 2015;7:1577–93.

Marette A, Picard-Deland E. Yogurt consumption and impact on health: focus on children and cardiometabolic risk. Am J Clin Nutr 2014;99:1243S–7S.

Demmer E et al. The impact of doubling dairy or plant-based foods on consumption of nutrients of concern and proper bone health for adolescent females. Public Health Nutr 2017;20:824–31.

Weaver CM. How sound is the science behind the dietary recommendations for dairy? Am J Clin Nutr 2014; 99(5 Suppl):1217S–22S.

Martin A et al. Apports nutritionnels conseillés pour la population française, 3rd edition, Ed TEC&DOC 2007 pp 605.