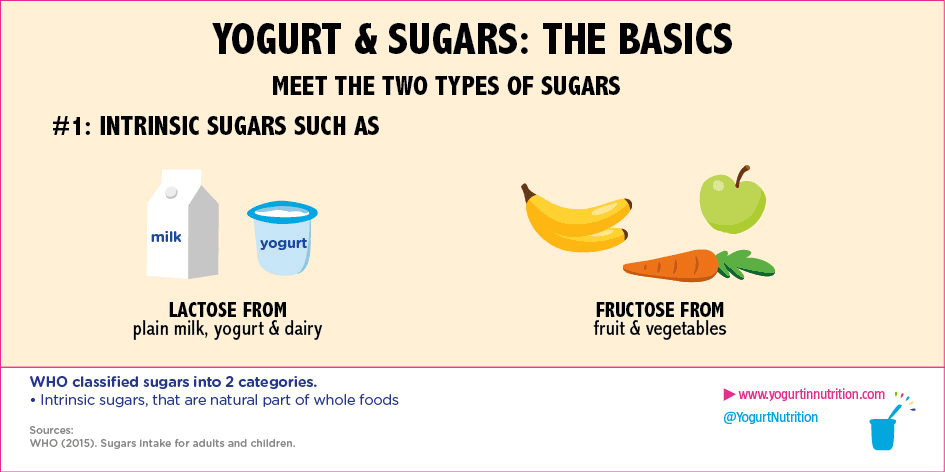 Two types of sugars
There are two types of sugars:
Intrinsic sugars, that are natural part of whole foods such as lactose in plain milk, yogurt and dairy or fructose in fruits and vegetables.
Added or free sugars, added to foods by manufacturers, cook or you. Among added sugars, there are: table sugar, caramel, honey, jam, fruit juice, molasses, fruit puree, agave syrup,
The consumption of intrinsic sugars is normal whereas the intake of added sugar must be limited. The WHO advise to limit the intake of free sugars below 10% of daily calories.
Lactose in yogurt is not an added or free sugar
Plain yogurt and flavored yogurt (industrial or homemade) contain about 3,7% of lactose.
Plain yogurt does not provide free sugars whereas flavored yogurt provide very variable amounts of free sugars.
How to decrease free sugars consumption?
Here are some ideas to decrease free sugars when flavoring your plain yogurt:
Use a teaspoon instead of pouring freely
Use spices or herbs that increase your feeling of sweetness such as cinnamon, anise, nutmeg, vanilla, mint… although they are sugar-free!
Progressively decrease the amount of sweet flavoring over the weeks, your palate will get used to it
Keep a limit of no more than 10 teaspoons of free sugars per day (50 g/d) for a 2000 kcal/diet (according to the World Health Organization).
Sources:
WHO (2015). Sugars intake for adults and children.
ANSES (2018). Ciqual.
Saint-Eve A. et al. (2016). Appetite;99:277-284.
For more information