At the Yogurt In Nutrition Initiative, we look forward to a more sustainable 2020 and bring you 12 resolutions over the year to protect our health and our planet! When it comes to food packaging, try the 3-R rules: Reduce Reuse & Recycle which is our resolution for this month!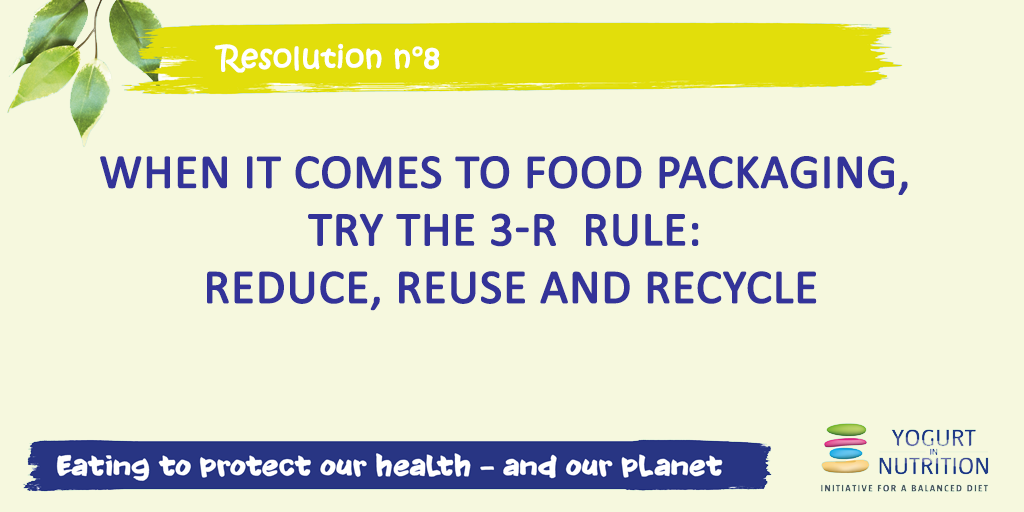 The 3-R rules related to food packaging
Production stages of our products might consume a large amount of energy and resources. These elements of the food system (transport, processing, packaging, retail…) produce greenhouse gases which contribute to global warming. In addition, climate change may put further pressure on our over-stretched food-producing environment. Sustainable innovations in terms of food packaging are needed to address food waste and loss reduction, preserving food safety, decreasing persistent plastic accumulation and preventing food chemical contamination. For our health and the environment, we can act by changing  progressively our consumption habits regarding food packaging.
To minimize wasteful packaging, think about the 3R rule: Reduce, Reuse & Recycle. Here are some advice to behave more consciously in matter of packaging.
Tips for REDUCING food packaging:
Minimize the use of plastics and derivatives in food packaging (FAO&WHO).
Limit as much as possible packaged products and don't buy over-packaged foods!
Apply a wise package selection or "precycle" in order to buy only things that you can then recycle.
If you don't have the choice, select paper/cardboard packaging instead of plastic.
Bring your own bag to the store!
Tips for REUSING food packaging:
Reuse your shopping bags! Don't buy new ones (and don't forget them at home when you go shopping).
Use a tote bag instead of a plastic one, since they are more resistant an extended use.
Reuse packaging items. For example, glass jars can be used as a drinking glass, flower vase or brush holder.
Reuse your paper bags (fruits, vegetables, bulk) for your upcoming shopping.
Regarding RECYCLING, many things can be recycled: aluminum and steel cans, cardboard, paper, glass, plastics (bags, bottles…) even yard waste (leaves, grass). Howerver, to be well-processed and ready for new uses, waste have to be at the right place, in the right bin. The key is to sort the waste. Stay tuned… we'll go further on the recycling topic in an upcoming resolution.
Finally, reducing your plastic consumption, reusing and giving a second life to your food packaging & recycling are easy gestures that make a great difference and can help to significantly reduce the carbon footprint.
For more information, check out our Q&A and infography about sustainability:
Sources: