At the Yogurt In Nutrition Initiative, we look forward to a more sustainable 2020 and we bring you 12 food resolutions to protect our health and our planet! For the last resolution of this year, what about rediscovering home cooking?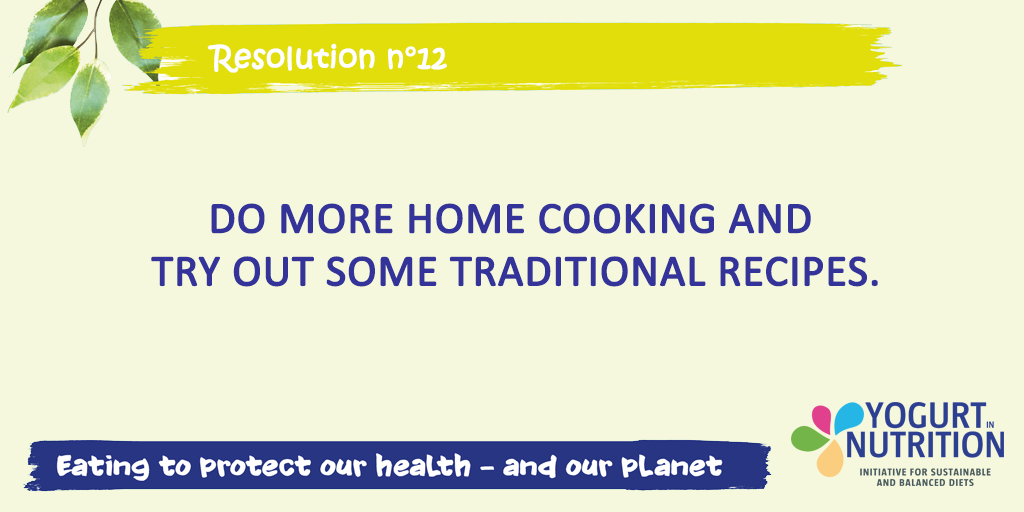 What about more home cooking and trying some traditional recipes?
During the last 50 years, the industrialization of food production has increased and sometimes led to more called "ultra-processed food", which can be defined, according to some publications, as industrial formulations with 5 or more ingredients. Such ingredients often include sweeteners, oils, fats, salt, antioxidants, stabilizers, and preservatives (ingredients that we won't have in our kitchen).  Yet, a FAO & WHO report suggests that limiting the amount of highly processed food in diet may be part of a healthy and environmentally-conscious diet. Indeed, switching to a more flexitarian diet is associated with a decrease of 69% of the consumption of ultra-processed foods and also associated with a 38% reduction of greenhouse gas emissions (also explained by a decrease of red meat and veal consumption).
In fact, it seems that doing more home cooking should help us eat more sustainably.
In order to change eating habits and food choices, one strategy would be to cook and prepare our own meals! We can surprise ourselves by finding new recipes on blogs and specialized websites. No need to be a good cook to make simple and healthy recipes. And it is not about stopping all processed food, it is about rebalancing the diet with traditional homemade meal.
Besides, home cooking can provide great opportunities to nurture healthy and sustainable eating habits for our children. Cook with the kids and enjoy this moment together! Create happy memories related to healthy eating habits. Childhood is the time to lay the foundations of long-term healthy eating habits. It is an ideal moment for them to observe, discuss, imitate, ask, and learn about food. Engaging children in meal preparation, eating at regular times, sharing the same meal between parents and children… These may contribute to a more balanced diet afterwards. Even if it is tempting, particularly as working parents, to spend less time preparing meals and to serve easy-to-prepare/fast food to their children, it is important to prepare meals yourself. Therefore, the quality and quantity of foods available at home are playing a great role in the eating behaviors and health of all family members:
Limit access to high-energy foods, if there's no nutritional value associated.
Make healthy foods the easy option (prepare healthy foods, peel and cut fruit to encourage people to eat them…).
Make healthy foods the happy option (include healthy foods at the center of happy occasions such as family celebrations or birthdays, this can help thinking of healthy foods as happy foods).
For more information, check out our Q&A about sustainable:
You may also like to try some of our recipes:
Sources: