Even in a society with an abundant supply of food, a large proportion of the population does not meet the Dietary Reference Intake (DRI) for several vitamins and minerals. As yogurt is known as a nutrient dense food within the dairy food group, several studies have shown the interesting contribution of yogurt to the nutrition intake, especially in children.
How does yogurt enable children to meet their nutritional needs?
Several studies in the US, UK or Spain have shown the interest of the yogurt as a nutrient-dense food to help meet the dietary guidelines, specifically in micronutrient like calcium, iodine or vitamin B12.
A US study, using data from 2007-2010 What We Eat in America National Health and Nutrition Examination Survey (NHANES), highlights that a majority of children of 4 years and older, and nearly all adults do not meet the recommended 2.5 to 3 daily portions of dairy products. However, an increased consumption of dairy foods would mean a significant reduction in the percentage of adults with intakes lower than the Estimated Average Requirement (EAR) of calcium, magnesium, Vitamin A and Vitamin D.
Identically, a study on yogurt consumption in the UK, based on the UK national nutrition survey, considered its contribution to nutrient intakes at different life stages. Results unveiled that yogurt makes a small but valuable contribution to nutrient intakes in young children but also in teenagers, particularly for vitamin B12, riboflavin, calcium, iodine and phosphorus.
[bctt tweet="Did you know #yogurt is a nutrient-dense food? It makes valuable contribution to nutrient intakes in young #children and #teens particularly for #vitamin B12, riboflavin, calcium, iodine and phosphorus " username="YogurtNutrition"]
To go further, researchers from the University of La Laguna calculated the content of 20 macro and trace elements in yogurt samples using the method Plasma Optical Emission Spectrometry (ICP-OES). The research results suggest that daily yogurt consumption contributes significantly to the dietary intake of essential metals and trace elements, mainly calcium and zinc. Daily consumption of yogurt was established on 58.6 g for children and the study.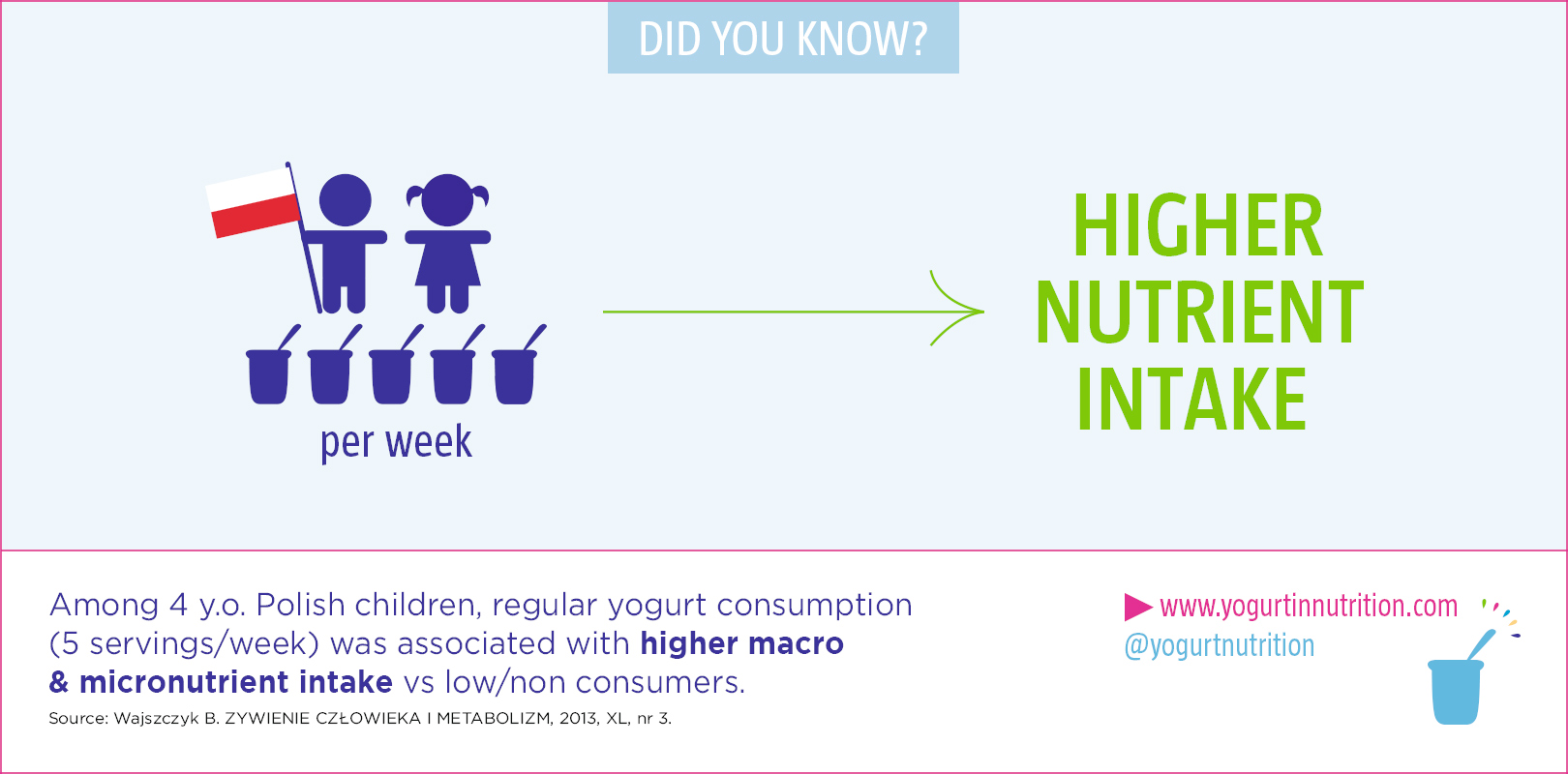 What are the benefits of yogurt for kids?
A US Study showed that the diet of the children aged 2 to 11 contains surplus energy and sugars and insufficient Vitamin D, calcium, and potassium. Yogurt, fruit and vegetables are naturally rich sources of the nutrients of concern, but are foods that children do not consume in sufficient quantity. Based on the USDA's National Nutrient Database for Standard Reference for typical yogurt servings, the study concludes that adding one 6oz (~170g) serving of yogurt (ideally combined with fruit) each day would provide enough calcium for children aged 9 to 11 to meet the recommended level of intake. It would also increase vitamin D, potassium and all nutrient of concern consumption for children of all age groups.
[bctt tweet="#Yogurt, fruit & vegetables are rich sources of nutrients, but not consumed enough by kids. #DYK that adding just one serving of #yogurt a day provides enough #calcium for children aged 9 to 11 to meet the recommendations " username="YogurtNutrition"]
To go further:
Source: