"Yogurt can enhance satiety and help to manage energy intake" is one of the 10 evidence-based conclusions made by the YINI board about the health effects of yogurt. Learn more below…
Yogurt consumption decreases the feeling of hunger more than other dairy products
Consuming yogurt can increase the feeling of being full and this effect on the appetite may help reduce calorie intake.
In a study of dairy snacks, the greatest appetite suppression was seen with yogurt:
Hunger was 8% lower when participants consumed yogurt as a mid-morning snack than when they ate a portion of cheese matched for calorie content and volume.
Hunger was 10% lower after the yogurt snack than after a matched serving of milk (Figure 1. Hunger rating 45 minutes after dairy snacks)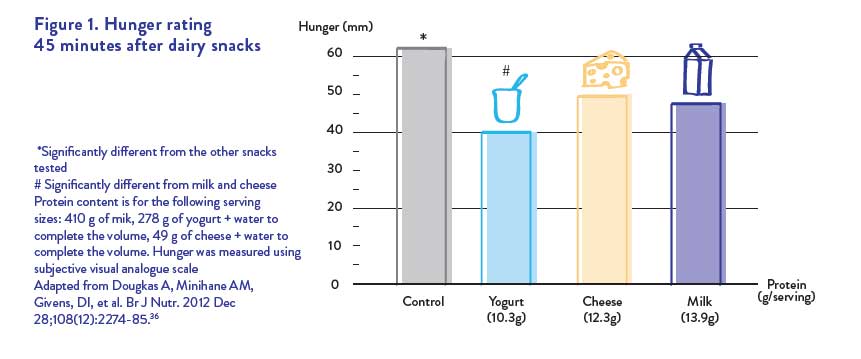 References:
Douglas A, Minihane AM, Givens, DI, et al. Differential effects of dairy snacks on appetite, but not overall energy intake. Br J Nutr 2012;108:2274–85.

Tsuchiya A, Almiron-Roig E, Lluch A, et al. Higher satiety ratings following yogurt consumption relative to fruit drinkor dairy fruit drink. J Am Diet Assoc 2006;106:550–7.

Chapelot D, Payen F. Comparison of the effects of a liquid yogurt and chocolate bars on satiety: a multidimensionalapproach. Br J Nutr 2010;103:760–7.