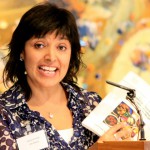 Azmina is an award-winning dietitian, international speaker and best-selling author. She is a media spokesperson for the British Dietetic Association (BDA), resident dietitian to www.patient.co.uk, and previous spokesperson and nutrition expert for UK's Change4life Campaign and NHS Choices.
She has served as a member of several Boards and Committees on national health organisations including the British Heart Foundation, Diabetes UK, Diabetes Research and Wellness Foundation, BDA Public Relations Committee and BDA Executive Council. Her television appearances include Sky, BBC and ITV news, and lifestyle programmes such as This Morning and The One Show. She is Co-Founder of the award-winning RDUK monthly professional twitter chats that reach an average of 1.5 million people and involve between 60-85 expert nutrition participants.
Azmina has written over a dozen books on weight management and diabetes. She was Chief Dietitian to Diabetes UK for eight years and now runs her own nutrition consultancy. In her spare time, she is Global Director of the award-winning non-commercial online resource, The Ismaili Nutrition Centre . She offers authoritative opinion on a range of diet-related topics and her lively personality and down-to-earth approach help her to simplify scientific dietary principles for the media and the general public.
Discover here more about Azmina Govindji's research on yogurt consumption.