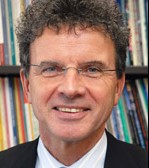 Frans KOK
PhD Division of Human Nutrition, Wageningen University, The Netherlands
Frans Kok (1950) is professor in Nutrition & Health and director of the Division of Human Nutrition at Wageningen University, The Netherlands. Kok was trained in human nutrition in Wageningen and epidemiology at Harvard University, Boston USA.
Kok's scientific research covers topics such as diet in disease prevention, dietary behavior, and overweight. In emerging economies in Asia and Africa
attention is on diet and deficiency disorders. He is author of some 300 scientific publications (H-index = 54), and was promoter of 65 PhD graduates. Frans Kok is editor of three nutrition textbooks.
From 2006-2010 he acted as dean of Wageningen graduate schools being responsible for the quality of academic research and postdoctoral training. He has been member of the Academic Board of Wageningen University for more than 10 years.
Kok is member of several (inter)national scientific committees. He chaired the Dutch National Health Council committee responsible for the 2006 Dietary Guidelines for the Netherlands.
Kok presents and lectures on nutrition and health topics at many (popular)scientific (inter)national symposia, masterclasses, and the media.