Eight mid-career researchers from Africa, Asia, Europe and North America are the finalists of the 3rd Edition of the Danone International Prize for Alimentation.
A prize to support innovative research in Alimentation
In 2022, Danone Institute International has opened the 3rd Edition of the Danone International Prize for Alimentation (DIPA).
The purpose of the DIPA is to encourage and support cutting edge, innovative and multidisciplinary scientific research in Alimentation; the umbrella term for sustainable eating and drinking practices that contribute to the health of individuals, including food choice, purchase, preparation, cooking and meal organization, and their determinants. The DIPA is intended to raise the profile of a mid-career researcher and accelerate his or her career, as well as help develop knowledge on the topic and inspire junior researchers.
After an international call for application,  20 experts from all over the World applied to this 3rd Edition of the DIPA.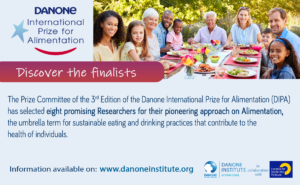 A list of eight finalists
The Selection Committee, chaired by Prof. Suzanne Higgs (University of Birmingham, UK), has preselected eight promising mid-career researchers for their innovative research on Alimentation. The Laureate will be announced in April 2023, after a meeting of the DIPA Jury comprising a panel of international renowned scientists and chaired by Prof. Michael Prelip (University of California Los Angeles, USA).
The finalists for the 3rd Edition of the DIPA are (by alphabetical order):
Prof. Stephanie ANZMAN-FRASCA (Buffalo University, USA) for her work on "Evidence-based approaches from the developmental and behavioral sciences to promote healthy eating behaviors in naturalistic settings"
Prof. Vicky DRAPEAU (Laval University, Canada): "Promoting sustainable healthy food choices and eating behaviors"
Prof. Heather EICHER-MILLER (Purdue University, USA : "Improving food security, dietary intake, and health through integrated science and engineering approaches"
Prof. Montserrat FITO-COLOMER (Hospital del Mar Medical Research Institute, Spain):"Yourdiet: a multimodal intervention for obesity management in young adults with a plant-based restrictive diet"
Prof. Misty HAWKINS (Indiana University, USA):"Enabling Neurocognitive Ability to Behaviorally Limit Excess Alimentation: Intervention Matching to Skills: The ENABLE AIMS Pilot Trial"
Prof. Julie LUMENG (Michigan University, USA): "Understanding the mother-child feeding interaction"
Prof. Afework MULUGETA (School of Public Health, Mekelle University, Ethiopia): "Fast recovery of hospitalized patients through improved food presentation and pleasant meal time in resource limited settings (FAST HOPE Project)"
Prof. Kitti SRANACHAROENPONG (Institute of Nutrition, Mahidol University, Thailand):" The Lao breast milk's project
For more information about the Danone International Prize for Alimentation, the finalists and the previous laureates, we invite you to visit the danoneinstitute.org website.