100 excited participants joined a live Zoom event on 10 December 2020 to hear esteemed Professor Pieter van't Veer from Wageningen University, the Netherlands, speak about the principles of sustainable eating. He took delegates through a journey of the EAT-Lancet global reference diet, how one diet cannot fit all countries, and shared insights from a unique mathematical model that can encompass nutrition, environmental sustainability and realistic improvements in dietary intake.
 What are Sustainable Diets?
According to the Food and Agriculture Organisation, a sustainable eating plan needs to have a low impact on the environment, and contribute to food and nutrition security and to healthy life for present and future generations. They need to be:
protective and respectful of biodiversity and ecosystems;
culturally acceptable, accessible, economically fair and affordable;
nutritionally adequate, safe and healthy;
while optimising natural and human resources.
Professor van't Veer remarks that "the venom is in the tail" – the last sentence around optimising natural and human resources needs to take cultural acceptability into account and this has appeared to be a much more difficult task.
One Size does not Fit All
The global recommendation by EAT Lancet suggests we should limit red meat and starchy vegetables and that there should be optional use of eggs, poultry and dairy foods. Foods to increase include fish, vegetables, fruits, legumes, whole grains and nuts. However, it's crucial to recognise that the EAT Lancet diet is a global reference diet – for people to make improvements in their diet we must consider, among other things, food preferences and culture.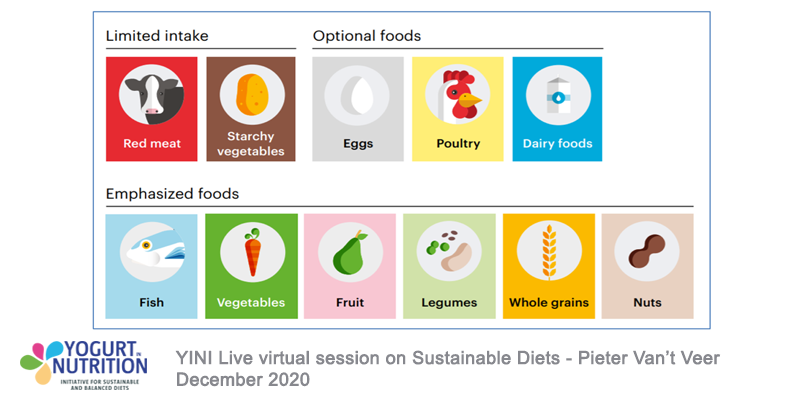 This presentation focussed mainly on red meat and dairy. Eat Lancet  states that the intake of red meat is generally too high, especially in the western world. With dairy, we see the reverse: for most regions of the world, dairy should increase, but it needs to go down in North America and the USA.
This indicates that the implications for national diet recommendations are different by region, by food culture, and even for different people. Dietitians are uniquely trained to tailor a more sustainable diet to the individual, so the global reference diet obviously needs adjustment in clinical practice.
What works for the consumer?
Food preferences and taste, but also price and convenience are highly relevant to our food choices.
In a European survey, consumers were asked about acceptability of a range of products that could be used as alternatives for meat. They were most open to animal-based alternatives, which of course is not the best result in terms of sustainability. They were less open to plant alternatives, and the least to new protein sources like insects and in vitro meat.
Another study looked into taste patterns of the Dutch diet. The results implied that the taste profile of the most healthy and sustainable diet was less savoury, with fewer umami, salty and bitter flavour notes. Thus, a healthy and sustainable diet is a relatively dull diet and less pleasurable to eat.
The SHARP-diet project for European cultures
SHARP is an acronym for: Sustainable, Health, Affordable, Reliable and Preferable.
Data was collated data from about 8,000 adults in 4 EU countries. A mathematical model was developed, based on realistic and likely dietary changes for each population. Food based dietary guidelines (FBDG) were used and portion sizes were not specified, so the model allows the change to be tailored to the individual.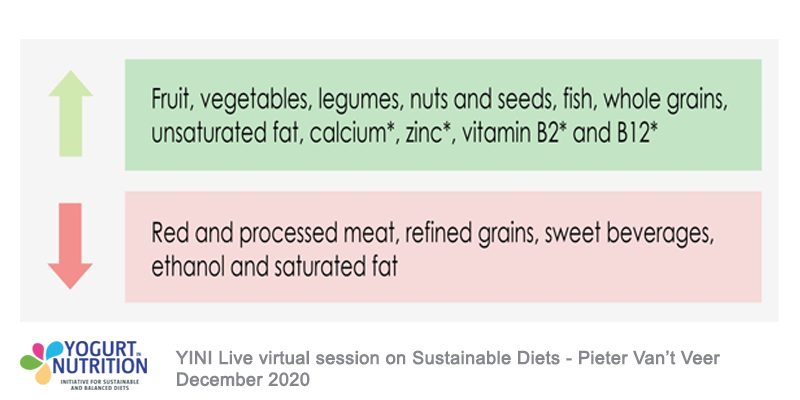 *These four micronutrients were added to the model to make up for nutrient shortfalls.
The modelling approach used in this study builds on what is actually consumed in a population, by different people. This model combines best practice diets to improve nutrient density, to minimise greenhouse gas emissions and to create minimal change to regular dietary and cultural practices. Peer groups are used to help motivate people towards better choices.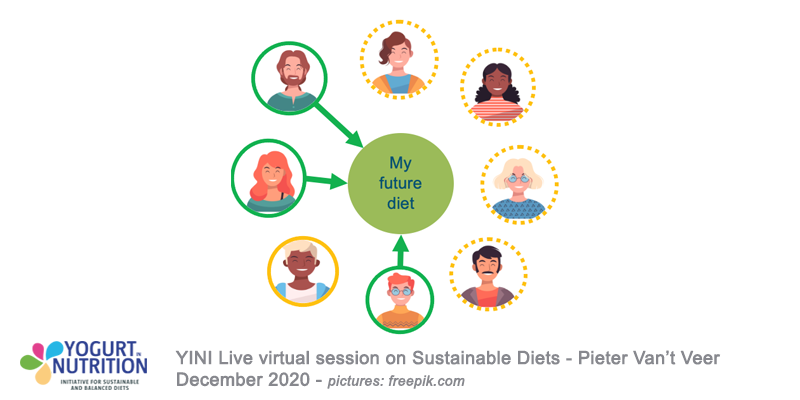 The model uses FBDGs to select the peers in the survey data that do better than you. These are indicated with green circles. So your peers provide you with best practice in terms of dietary choices, enabling a culturally and socially appropriate learning medium and reference point for people to use as a realistic goal.
Because the model is not primarily based on foods, but on actual combinations of foods and recipes that people actually use in daily life, the modelled diets are much more likely to be acceptable, tasty and affordable.
Modelled diets were shown to have fruit and vegetable consumption patterns in between the observed current diet and the EAT Lancet recommendations. There was a shift from beef to pork, poultry, fish and plant-based  protein sources.
All dairy is not created equal
Liquid diary has a different nutrition profile to cheese and the SHARP model differentiated between these with interesting results: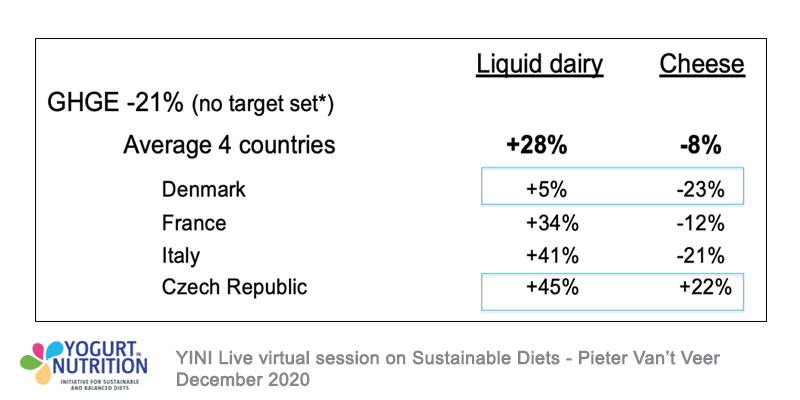 On average, the model shows that liquid dairy can increase by 28%, whereas cheese needs to be reduced. There are considerable differences between countries because the model uses best practices from peers, and thus the diet shift depends on the national food culture.
The Future of our Planet is on our Plates
Professor van't Veer closed his presentation with a few key conclusions:
Eat less (bearing in mind needs of vulnerable groups and physical activity levels)
Increase plant foods and shift away from ruminant meat to pork, chicken and fish.
Give consideration to dairy nutrients such as vitamin B2 and calcium, as well as vitamin B12 and zinc
Sustainable nutrition is about quantity and quality, within parameters of social disparities, affordability, acceptability and taste.
The 'green protein' transition involves the total diet and nutrient adequacy needs to be monitored.
Thank you to Azmina Govindji for this synthesis.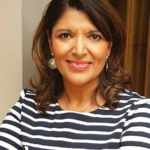 Azmina Govindji RD MBDA, Founder of Azmina Nutrition, is an award-winning dietitian, consultant nutritionist, international speaker and best-selling author. She is a media spokesperson for the British Dietetic Association and is regularly quoted in the national press.