Tell us why you are interested in yogurt and why it is the centerpiece of your new book Ma table festive?
As part of my PhD, my thesis director asked me if I was interested to write a paper on yogurt consumption and cardiometabolic risk factors, otherwise she would have give it to a master degree student. I've accepted immediately (This subject is far away from genetics and nutrigenomics, which are my research themes!) So I started to review the literature on everything that links yogurt and health. Finally, later that year, we found some interesting results whereas yogurt consumers had better Prudent dietary pattern's score than non-consumers. We have also found that yogurt was the only dairy product included in the Prudent dietary pattern along with fruits, veggies, nuts, fish, and whole grains. Not so long after we have published our study in the European Journal of Nutrition, I've decided that I could do something on yogurt, but what? That's where I came up with the cookbook idea.
And you have already published other books before…
Exactly, but this is my first recipe book! I've proposed the idea to my editor and she immediately agreed. So, last spring, I asked my friend Catherine Côté, an amazing food photographer and a true foodie, to help me build something incredibly amazing. I'm so excited about this project and I'm so proud of all that was done.
Tell us more about Ma table festive.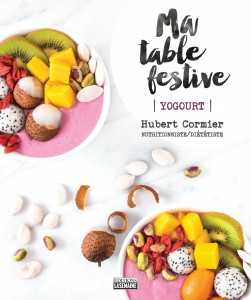 Basically, you will find more than 75 recipes going from breakfast to lunch and some other amazing dessert ideas. Each recipe has a little yogurt in it, because it such an interesting and versatile food that can help you reducing the fat content of your meal without even noticing it! Also, you can add some more proteins, especially if you're using Greek yogurt, one of my favourite! You can eat yogurt alone as a snack, with fruits, with a layer of caramel sauce, with cookie crumbs, with nuts or even in a more salty way with spices, garlic and Sriracha sauce to came up with the best dip ever! My goal with this book was to show the many possibilities of yogurt in the kitchen. With this idea in my mind, I came up with hummus recipes, cakes, pavlova, stuffed Italian pasta, and some amazing (and decadent!) breakfasts, such as eggs benedict, chia pudding, smoothie bowl, wafflewich, milkshake and frozen smoothie ice cubes.
Published October 19th 2015
Editor: Éditions La Semaine
Food photographer: Catherine Côté
© Charron Éditeur Inc.
ISBN : 978-2-89703-323-1