For our online symposium « Eating to protect our health and our planet », we asked Fernanda Alvarado to cover Jess Haine's talk for us. Fernanda Alvarado is a nutritionist specialized in diabetes.  She has a Master degree in Nutrition and Dietetics with a specialty in Community Nutrition. From 2009 to 2018 she coordinated a group of Health Promoters at the Universidad Iberoamericana in Mexico City. She impacted more than a thousand Mexican families through different workshops on prevention, correct diet and habit change.
Convinced that digital media are important in terms of prevention, Fernanda publishes content that seeks to improve the diet of Mexicans on the blog Bien Comer , in the Youtube channel Bien Comer and on her social profiles. She also conducts a podcast on nutrition, health and welfare.
How to achieve sustainable healthy eating in practice?
The American Society for Nutrition (ASN), in association with Yogurt in Nutrition Initiative for a Balanced Diet (YINI), organized a conference on June 2, "Eating to Protect our Health and our Planet", at which Dr Jess Haines of the University of Guelph in Canada spoke on "How to achieve sustainable healthy eating in practice?"
Food systems and environmental sustainability are both currently under threat, and represent one of the challenges we face as a society, which is why, based on the FAO/WHO "Sustainable healthy diets – Guiding Principles" report, Jess Haines used her talk to make recommendations for promoting more sustainable diets and food systems.
Sustainable healthy eating can be defined as dietary patterns which promote all the aspects of personal health as well as a low environmental impact while also being accessible, affordable and culturally acceptable. There is, however, an enormous gap between what we consider to be a sustainable healthy diet and what we currently eat. Although there are some regional variations, on a global level we consume far more animal products and sugar than we should. Meanwhile, we eat too little fruit, vegetables and whole grains. The population therefore needs to be given effective guidance on adopting a heathy and sustainable diet.
This situation also poses a challenge for the food industry. Jess Haines mentioned in her presentation that agriculture also needs to respond to our demands as consumers and adapt production quantities. For example, in the hypothetical case in which everybody wishes to consume the recommended amounts of fruit and vegetables, we would quickly realise that we do not produce enough fruit and vegetables, and that we produce too much sugar and cereals.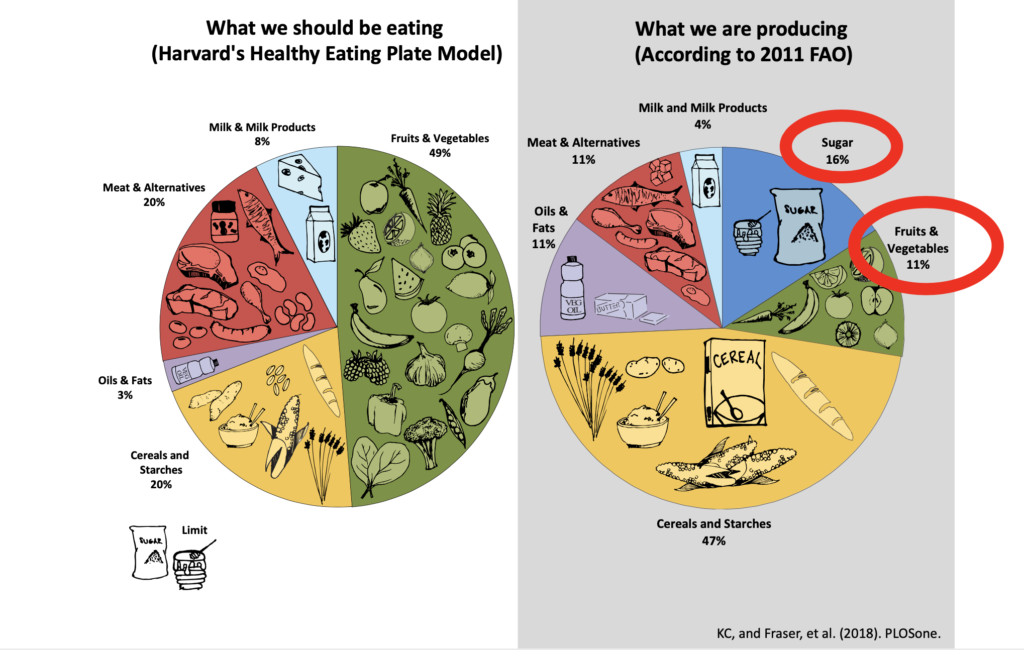 Another point to consider, according to Haines, is the relationship with food waste. Food waste is a global problem, although it is experienced differently depending on the economy of each country. It is estimated that, in developed countries, 47% of food waste comes from consumers, followed by food processing factories (20%), shops (10%) and farms (10%), with the rest coming from restaurants, hotels etc.
According to an observational study published in September 2019 which was conducted in the city of Guelph (Canada), it was calculated that each family wastes 3 kilograms of food each week. Aside from the environmental impact, this practice generates an economic and nutritional loss. An approximate economic loss of 18 dollars a week was calculated, which equates to every home wasting around 936 dollars in food avoidably each year. That's a loss of 175,032 calories (65% from fruit and vegetables and 24% from cereals) and 1,196 kilograms of carbon dioxide, which represents around a quarter of the annual emissions generated by driving a car. In addition to this, wasting food is also associated with water and land use, and this also has a considerable environmental impact.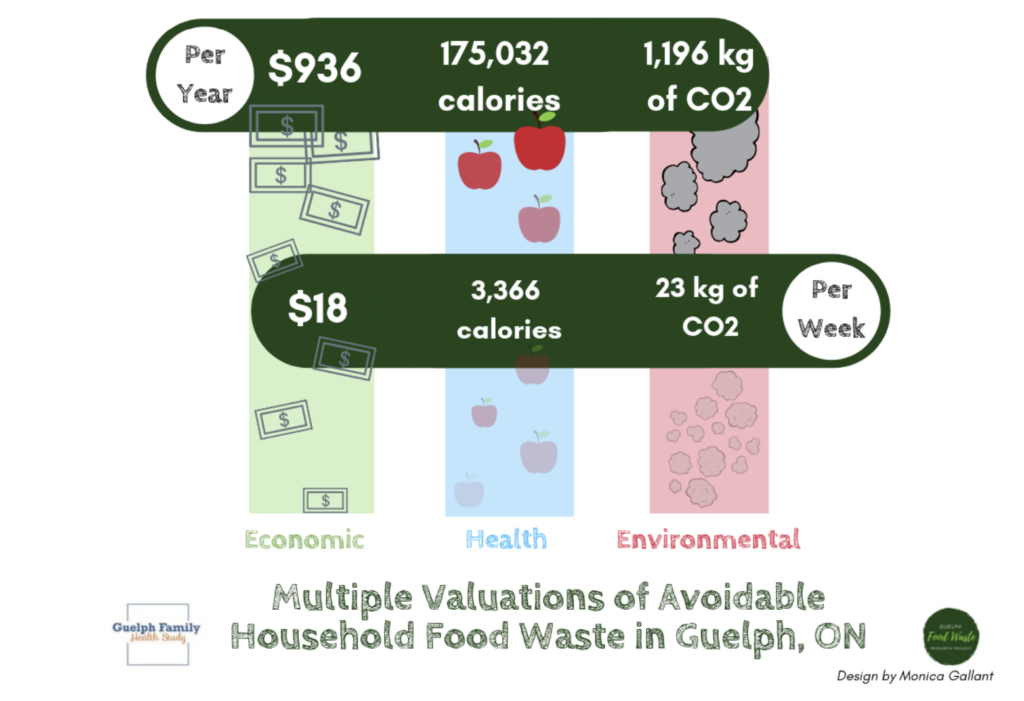 What actions can we take?
Ensure that food items are available and accessible, particularly for the most vulnerable in society.
Promote a plant-based diet, which will lead to greater consumption and production of fruit and vegetables.
Develop national food strategies based on foods which establish healthy and sustainable diets, taking into account the social, cultural, economic, ecological and environmental circumstances.
Promote strategies for changing eating habits, empowering the consumer and delivering effective nutritional education.
Leverage young people's concerns about climate change and the environment to motivate changes in people's eating habits.
There is much confusion among consumers regarding the concept of a sustainable diet. On the one hand, it is seen as dull, costly, and requiring a lot of time to prepare and culinary skills. On the other hand, we are lost with terminology the consumer does not understand (transgenic, organic, hormone-free, etc). It is therefore necessary to clarify the term "sustainable diet" with clear messages, based on consumer motivation, along with practical and persuasive advice to encourage behavioural change.
Super Savers
In this context, Jess Haines presented a community-tested programme: the healthy eating cookery book  "Rock What You've Got", sponsored by The Helderleigh Foundation. This  publication promotes the consumption of fruit and vegetables, and provides families with practical advice for reducing food waste, along with recipes to assist with this. Key tips for reducing food waste are mentioned, including:
Menu planning. This will help with making more informed buying choices, and there will therefore be less waste.
Storing food correctly. Most of the food we throw away is due to poor storage.
Recipes for making the most of food.
This book provides 28 recipes, divided into three categories:
2-in-1 recipes where a second recipe is created on the basis of the leftovers from the first.
Zero-waste recipes. All the ingredients are used in full, for example how to cook broccoli including the stalk.
Refrigerator recipes. Offers options for cooking with forgotten items found in the bottom of our refrigerator.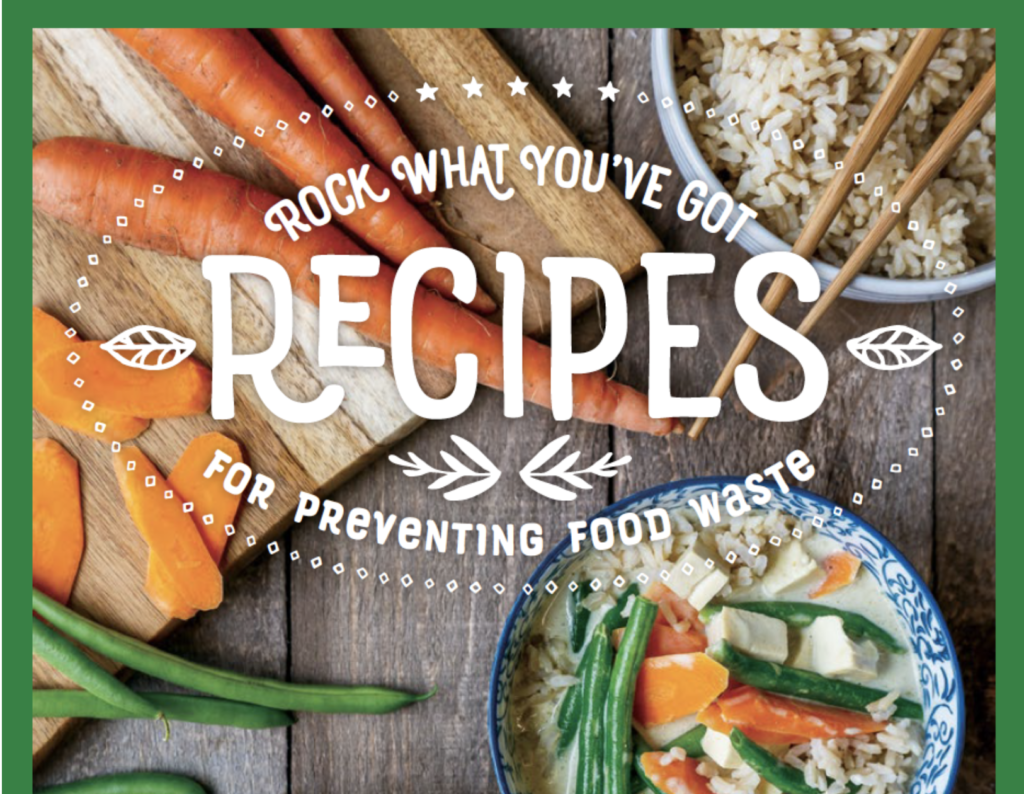 It is worth mentioning that none of the recipes takes more than 30 minutes, and there are even some which take only 10 minutes to prepare. All the ingredients are also easy to source. The book Rock What You've Got offers culinary options with a high nutritional value which are tasty, affordable and appealing to all the family, especially children. There is also a section on good storage practice, tips for arranging the refrigerator, planning menus and a shopping list.
Haines hopes that this initiative will help participants to improve their eating habits by increasing their consumption of fruit and vegetables and reduce their food waste as far as possible and families to take up new skills and adopt new attitudes and behaviours in relation to the importance of a sustainable diet. In the long term, this kind of initiative could be a proven strategy for leading community programmes with the aim of protecting our health and that of the planet.
Key messages from the presentation:
Reducing food waste is a United Nations Sustainable Development Goal
Approximately a third of all food produced is wasted
47% of wasted food comes from consumers in developed countries
Concern for the environment is a motivator for behavioural change
41% of young people are concerned about climate change
We need to implement effective strategies that impact consumers
Achieving sustainable healthy eating requires clear messages, based on consumer motivation, as well as persuasive practical advice which will help to remove barriers to change
Personally, I consider that there is an enormous need to transform food systems to ensure a sustainable future. Food literacy is about empowering the consumer, making it possible to demystify and break down barriers around the term "sustainable healthy eating".