The YINI Symposium was held in Madrid on the 25 October 2018 as part of the IV World Congress of Public Health and Nutrition (Nutrimad 2018).  This scientific symposium gathered together renowned nutrition scientists to discuss the role of yogurt in relation to healthy eating in children. 
Prof. Luis A. Moreno is a Professor of Public Health and the coordinator of the GENUD (Growth, Exercise, Nutrition and Development) research group at the University of Zaragoza (Spain).  His opening presentation reviewed data on eating habits and dietary patterns in childhood highlighting the association of yogurt consumption with improved health outcomes.
Obesity in childhood
Obesity rates in childhood remain a concern both for developed and developing countries. Overweight and obesity in childhood is known to increase the risk of developing non-communicable diseases, at a younger age.   The current data indicates that the highest rates of childhood obesity in Europe are in the southern European countries with Cyprus, Greece, Italy and Spain having obesity rates ranging from 14 – 21% while the Northern European countries range from 5-12%.
The causes of obesity are complex and multifactorial, with environmental, genetic and lifestyle factors playing pivotal roles.  No single nutrient has been unequivocally associated with the development of overweight and obesity in childhood, with the research indicating that the factors contributing to obesity are interlinked, with foods, dietary patterns and eating habits all playing a key role. Recent observational studies have been focusing on these relationships to establish clear public health guidelines for reducing childhood obesity risk.
Foods
Dairy Products
Observational studies examining the role of food groups in relation to childhood obesity risk, have found a positive association between dairy product consumption and lower obesity risk.  Children who consume dairy products, tend to have lower BMI, skin-folds measurements and waist circumference.  Research by Zhu et al. (2015) which used NHANES data to analyse dairy products in more detail, identified that yogurt consumption was significantly associated with a lower risk of obesity as well as improved metabolic markers (slide 15).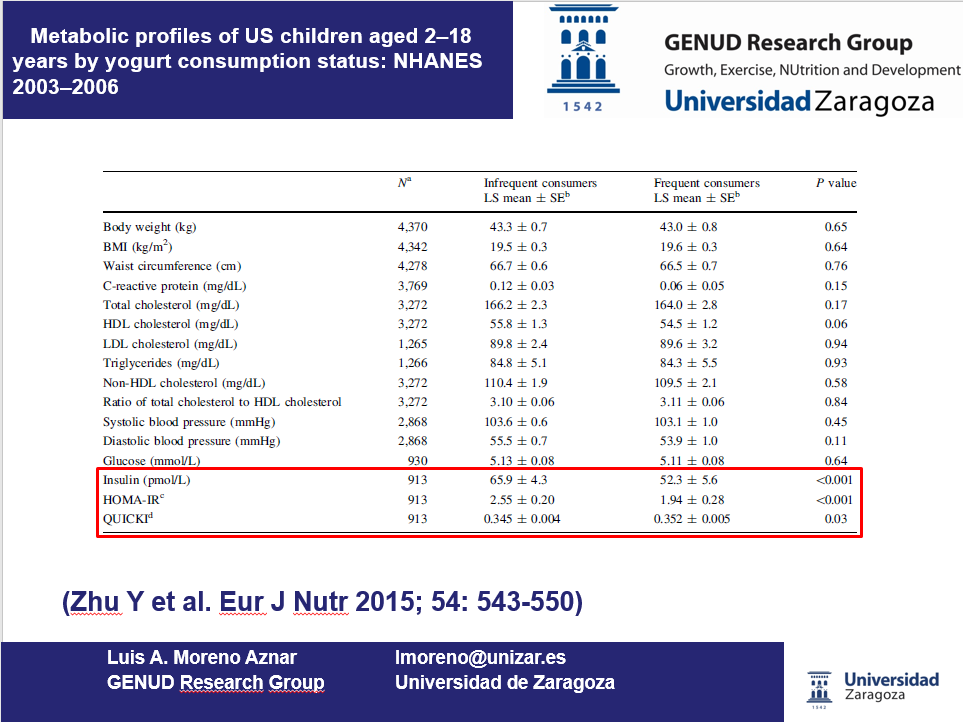 Yogurt is both a nutrient rich food and is often consumed with other healthy foods such as fruit therefore having a positive impact on the dietary quality of children's meals.
Added Sugar
Free or added sugars, particularly in the form of sweetened beverages including carbonated/soft drinks and fruit juices has been identified as a potential risk factor for childhood obesity, with a negative impact on diet quality. The possible explanations for this are that added sugar-rich beverages are being either consumed instead of more nutritious beverages, such as milk, as well as being a key contributor to the total energy intake of children's diets.
Dietary patterns
The IDEFICS study, an observational study examining adherence to a Mediterranean style diet in children from eight European countries, found a Mediterranean diet to be protective for reducing obesity risk in children (slides 19, 20). This study also found that adherence was not necessarily linked living in a Mediterranean country as Sweden had the highest adherence rate, followed by Italy and Germany.
A study by Pala V et al (2013) examined dietary pattern intake and the risk of becoming overweight/obese in children (slide 18).  This study found that a diet high in vegetables and whole grains, (which is also a characteristic of the Mediterranean diet) was protective for obesity risk.
Dietary Habits
Both longitudinal and cross-sectional studies have found that skipping breakfast is a risk factor for obesity development in childhood.  The AVENA study (2011) which examined four lifestyle risk factors on body fat for Spanish adolescents found that eating more frequent meals was negatively associated with obesity and overweight risk (slide 24).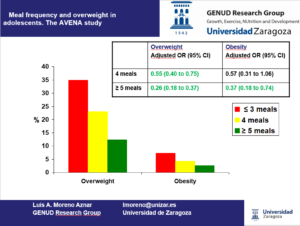 Research by the HELENA study (Healthy Lifestyle in Europe by Nutrition in Adolescence) found eating dinner as a family was protective for obesity risk in adolescence as it was associated with a lower BMI and a better dietary quality (slides 29, 30, 31).   Other studies also support the role of family meals for increasing the consumption of healthy foods such as fruits and vegetables while reducing the consumption of sweets and sugar sweetened beverages.
Discussion
Obesity prevention in childhood requires diet and lifestyle interventions. In terms of diet, systematic reviews have identified that it is more effective to focus on foods and dietary patterns for public health recommendations, as this helps to reduce obesity risk through improving the quality of children's diets and promoting healthy eating behaviours.
Yogurt consumption is associated with healthier eating habits and improved health measures in terms of BMI and metabolic markers, possibly due to its food matrix and the fact that yogurt consumers tend to have a more nutritious diet. These positive associations highlight that regular yogurt consumption, in conjunction with regular meals in the family environment, could play a role in improving the quality of children's diets and reducing the risk of obesity and chronic disease.
Synthesis written by Charlotte Debeugny (@debeugny)
Additional References/links: